What is Security Information and Event Management?
Security information and Event Management (SIEM) is a solution that allows the centralized collection of all information from multiple devices and security systems, to gain real-time insight into potential threats and respond quickly and effectively to incidents.
// Reduce risks in a simple and effective way
SGBox SIEM in action
SGBox helps your organization track user activity, monitor compliance violations, and generate reports for audit purposes, providing organizations with valuable information about their security posture, anomalies, and risk scenarios.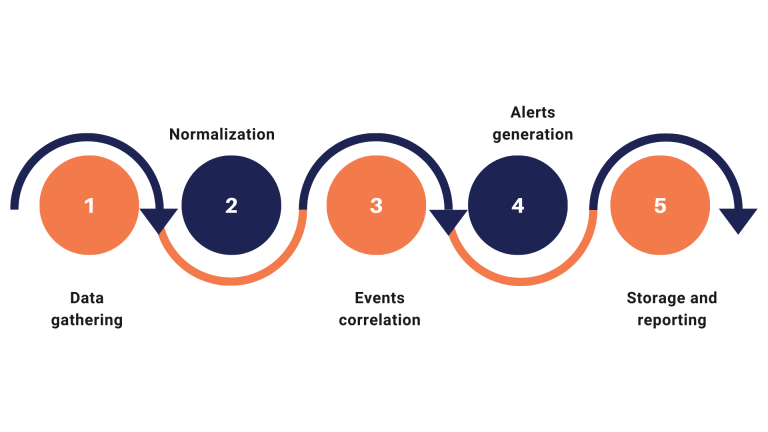 01
Data gathering
SIEM collects security data from different sources, such as firewalls, intrusion detection systems, antivirus, and many more.
02
Normalization
Data is standardized and normalized in a common format to facilitate analysis.
03
Events correlation
The data is analyzed to identify the correlations between the events, in order to identify any abnormal patterns or behaviors.
04
Alerts generation
If suspicious or potentially harmful events are detected, the SIEM generates alerts that are sent to security administrators for analysis and intervention.
05
Storage and reporting
Data is stored for compliance and reporting purposes, enabling long-term analysis and reporting for audits and inspections.
SGBox SIEM helps you improve security activities
Early detection of threats
SIEM allows you to quickly detect security events, reducing response time and mitigating any damage caused by cyber attacks or abnormal behavior.
Proactive monitoring
With its ability to analyze and correlate data from multiple sources, SGBox's SIEM allows you to identify suspicious activity or unusual behavior, allowing you to take action before security incidents occur.
Compliance with regulations
SIEM helps companies meet regulatory compliance requirements, such as GDPR, ISO 27001 or PCI DSS, by providing detailed reporting and data storage for audit purposes.
Operational efficiency
Centralization of data and automated reporting simplify security monitoring and reduce the workload of system administrators.
The elements of SGBox SIEM
Over the years, Security Information and Event Management (SIEM) has evolved and incorporated new capabilities that provide added value to the threat detection and mitigation process.
This evolution of capabilities and features is referred to as "next-gen SIEM." Implementing a next-generation SIEM solution provides advanced methods to secure data and consolidate IT infrastructure defense processes. 
Log Management
Collection of data and information from any computer system.
Threat Intelligence
Proactively detect the most complex threats before they occur.
User Behavior Analytics
Analysis of user behavior through advanced monitoring systems.
Network Vulnerability Scanner
Identify vulnerabilities and analyze the security status of your IT infrastructure.
//want to know more about the SGBox SIEM?
Request a Free Demo!