SOAR: Security Orchestration, Automation and Response
SOAR: Security Orchestration, Automation and Response
Automate Incidents Response
SOAR (Security Orchestration, Automation and Response) is a solution that combines orchestration, automation and response in a single tool, allowing you to address threats quickly and effectively.
SOAR automates processes, enabling rapid and effective response to security events. Integrate detection technologies with predefined response procedures, minimizing reaction times and maximizing the efficiency of safety operations.
// simplifies the security workflow
SGBox approach
The SGBox SOAR module can immediately evaluate, detect, intervene or perform investigations of incidents and processes without the need for human interaction.
It allows you to define a flow of concatenated actions and to perform it following the detection of incidents or malfunctions, helping the identification of false positives or real incidents.
Thanks to SOAR, security activities are automated.
Processes can be intelligently orchestrated and threats can be addressed promptly, all through a single platform.
Smart interaction thanks to Playbooks
Playbooks can be activated as a result of correlation rules match or manually by the analyst, to automate the creation of an incident.
The SGBox SOAR module is useful to react to threats even more considerable and to enrich incidents with additional information.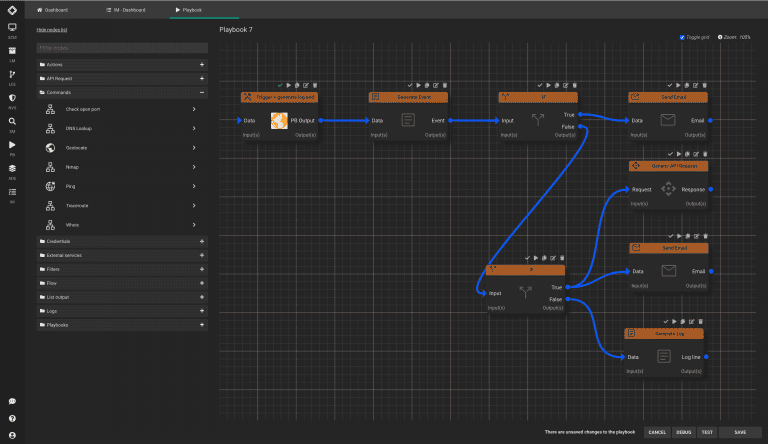 SOAR
SOAR is a transversal technology that increases the operability and effectiveness of all the modules that make up the SIEM. From incident detection to incident management, the entire workflow is simplified and optimized to reduce remediation time.
DISCOVER THE SIEM
Benefits of SGBox SOAR module
Instant reactivity
Drastically reduce threat response time, allowing you to react immediately and prevent potential damage to your company's cybersecurity.
Operational efficiency
Thanks to intelligent automation, security tasks can be performed efficiently, freeing human resources for more strategic and value-added activities.
Easy integration
Effortlessly integrates with your existing security tools, maximizing your existing investments and optimizing your overall system effectiveness.
Complete visibility
With the SOAR module, you get an overview of ongoing security threats and activities. Intuitive dashboards provide detailed information and reporting.
Adaptability
It adapts to the specific needs of your business, allowing you to customize workflows and automation rules to address threats in a targeted manner.
Reduction of human error
Minimize human error by ensuring greater accuracy in operations and reduced risk by automating security tasks.
// want to know more about SGBox SOAR?
Request a Free Demo!